inventory of zines, broadsheets and art books
LIBRARIIMUN
For zine stories of moments of encounter, check out @librariimun
experiments in (b)orderland commons: an archiving practice that visions and protects subversive and evasive relationalities as a meaningful context for communal imaginaries.
Gloria Anzaldúa - Fred Moten - Arielle Azoulay - Ika Willis - Adela Licona - Alison Piepmeier

︎
"I work a lot with scraps of the archive. I work a lot with unknown persons, nameless figures, ensembles, collectives, multitudes, the chorus. That's where my imagination of practice resides. That's where my heart resides."
- Sadiya Hartman, "On working with archives"
︎
"The poor image thus constructs anonymous global networks just as it creates a shared history. It builds alliances as it travels, provokes translation or mistranslation, and creates new publics and debates."
- Hito Steyerl, "In Defense of the Poor Image"
(𝕐𝕖𝕝𝕝𝕠𝕨) 𝔽𝕖𝕧𝕖𝕣 𝔻𝕣𝕖𝕒𝕞 𝟚
(2017)
An anthology published by @occasionaldispatch
featuring contributions from Asian Canadian artists.

Cover: metallic gold text screen-printed on yellow cardstock
Body pages: black and white
Size: 9.75" x 8.125"
Binding: Saddle-stitched
𝕌𝕟𝕥𝕚𝕥𝕝𝕖𝕕

(2015)
A short six-page comic by creator, 6-hours.tumblr on the inexplicability of emotional experience.

Cover and body pages: white card stock, illustrations in colour
Size: 7.75" x 5.625"
Binding: Saddle-stitched
𝕄𝕚𝕟𝕕 𝕒𝕟𝕕 𝕙𝕒𝕟𝕕𝕤
-
𝕥𝕙𝕠𝕦𝕘𝕙𝕥𝕤 𝕒𝕓𝕠𝕦𝕥 𝕝𝕚𝕗𝕖
(unknown)
A 12-page perzine by Chris-Roberts Antieau against fear and toward a creative and intentional life.
Cover: blue text stock, colour
Body: warm white text stock, black and white
Size: 8" x 5.25"
Binding: Saddle-stitched
𝕗𝕠𝕝.𝕔𝕝

(2016)
A collaborative project about entanglement by Vancouver-based artists.
Poetry by Victoria Hrincu
Illustrations by Melissa Soleski
Layout by Erica Wilk & Melissa Soleski
Printed by @monikerpress in an edition of 150


Cover: grey green cover stock with black illustration
Body: cold text stock, black, white and red
Size: 7.875" x 5.25"
Binding: Saddle-stitched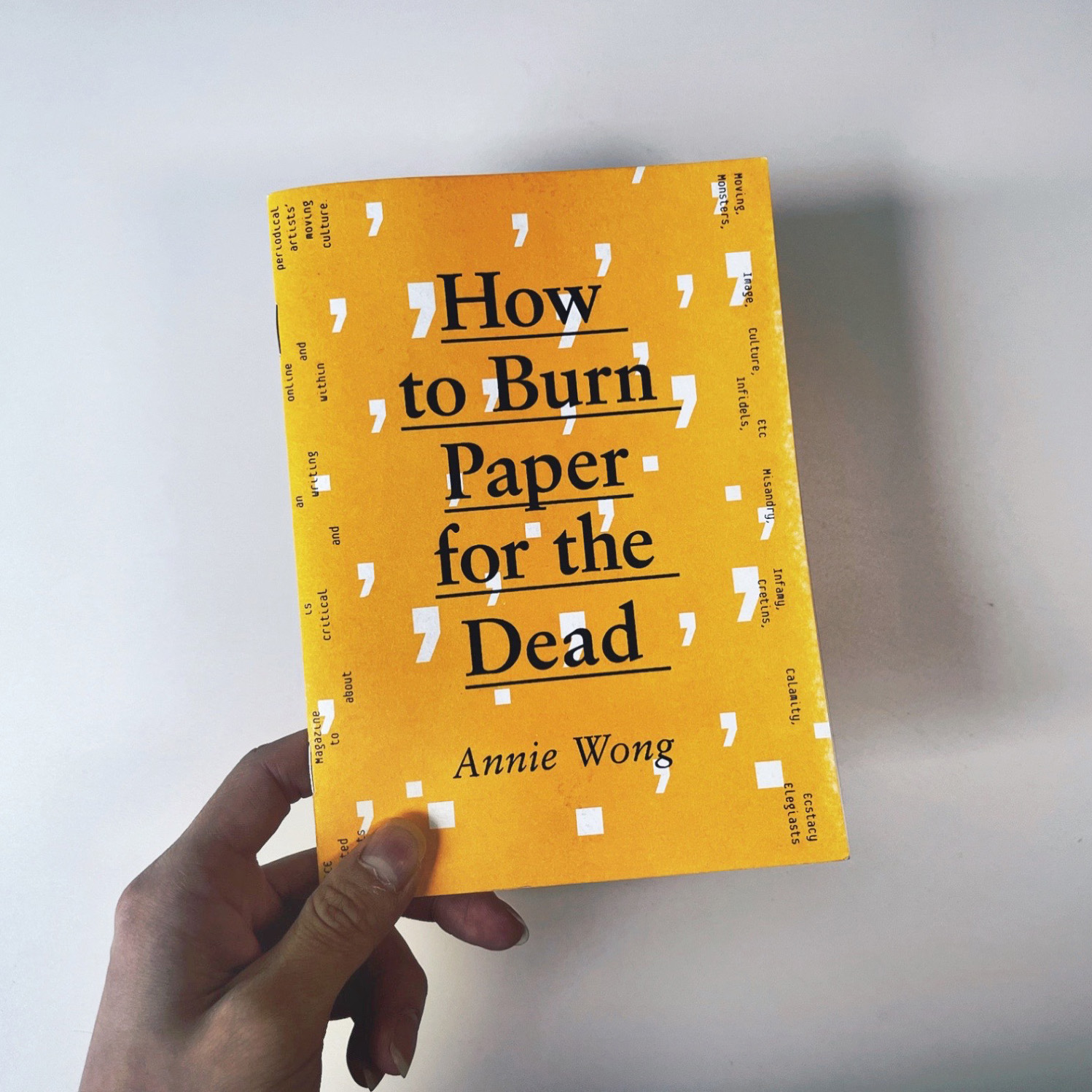 ℍ𝕠𝕨 𝕥𝕠 𝔹𝕦𝕣𝕟 ℙ𝕒𝕡𝕖𝕣 𝕗𝕠𝕣 𝕥𝕙𝕖 𝔻𝕖𝕒𝕕
(2017)
An 18 page essay zine by Annie Wong, published by @micemag on the diasporic experience of temporality, familial and ancestral relations, and meaning-making through ritual. Printed by @colourcodeprint

Cover: yellow card stock with black and white text
Body pages: text stock, black, white and yellow; transparency insert, digitized handwriting marginalia by designer Emmie Tsumura
Size: 7." x 5"
Binding: Saddle-stitched

ℚ𝕦𝕖𝕖𝕣 ℝ𝕖𝕒𝕕𝕤 𝕃𝕖𝕩𝕚𝕔𝕠𝕟
閱酷字典
(2021)
A bilingual 14-page zine by @queer_reads_library, featuring a collection of queer words in Cantonese, Mandarin and English alongside short definitions and illustrations. More at queerlexicon.com.

Cover and Body: matte warm-tone grey paper stock featuring digital full colour.
Size: 8.25" x 6"
Binding: Saddle-stitched
𝕙𝕠𝕨 𝕚𝕤 𝕪𝕠𝕦𝕣 𝕨𝕖𝕒𝕥𝕙𝕖𝕣 𝕥𝕠𝕕𝕒𝕪?
(2018)
A bilingual 24-page zine by @miraeerae, on musings over loss and grief and check-ins, mediated and held through korean and english, through the guiding metaphor of the weather.

Cover: textured pastel purple card stock with watercolour and colour pencil
Body: textured warm-tone paper stock and mylar, featuring black print and pasted diecut colour illustrations.
Size: 6" x 4.5"
Binding: Pamphlet-stitched with white thread

𝕡𝕠𝕣𝕥𝕒𝕝𝕤
(unknown)
A dreamy 28-page zine by @louscribbles of illustrated portals and short lines of text that gather memories.

Cover: cold white card stock Body: cold white paper stock and digital black and white. Size: 5" x 5"
Binding: Saddle-stitched Edition: No 21 / of 40

𝕃𝕒𝕟𝕕𝕤𝕔𝕒𝕡𝕖 𝕨𝕚𝕥𝕙 𝕥𝕙𝕖 𝕗𝕒𝕝𝕝 𝕠𝕗 𝕀𝕔𝕒𝕣𝕦𝕤
(2017)

An illustrated three-colour risograph comic zine by @wentingthings, depicting an imagined narrative of the titular poem by William Carlos Williams.

Cover: warm white thin cardstock in three-colour riso
Body: cold white paper stock in three-colour riso
Size: 4.5" x 6"
Binding: Saddle-stitched Edition: No 8 / 250